Development Manager's Update – June 2023
Welcome to June 2023 update!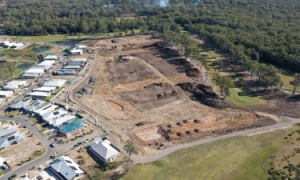 SIGV Release 5
As we head into winter, the site looks a lot different to last month.
Clearing of the development footprint is almost complete. Fallen timber has been turned into mulch, some of which will be used on site. All hollow bearing trees that have been felled have been retained on site and repositioned in the conservation areas to provide additional habitat for fauna.
Civil works have also started to progress. On the eastern side of the site, the delivery team has commenced construction of the sewer after a successful pre-start meeting with Shoalhaven Water. On the western side of the site, earthworks have begun under geotechnical supervision.
Hopefully the good weather continues!
Expected Registration: Q2 2024
---
Development Approval (DA)
Subdivision Work Certificate (SWC)
Subdivision Certificate (SC)
---
We look forward to providing you with another update next month. See you then!