History & Heritage
Sussex Inlet has a deep and interesting history that dates back 1,000's of years. Prior to European occupation in 1797, the area around Sussex Inlet was occupied by the Dhurga Aborigines who called the basin behind the inlet, 'Bherwherree'. Renown for an abundant supply of fish it was home to a relatively large group of the Dhurga people. Many historical artefacts have been found in the local area.
The first Europeans to walk through the area were the survivors from the wreck of the 'Sydney Cove' who traversed the district in 1797. Nine of them died on the journey up the coast and only three reached Sydney alive. In 1827 the surveyor, Thomas Florance, travelled to St Georges Basin and mapped Sussex Inlet.
In September 1850 the 'Barque Juniper' was shipwrecked near Cape St George. The area was subsequently named Wreck Bay. In 1870 the 'Walter Hood' was shipwrecked near Wreck Bay.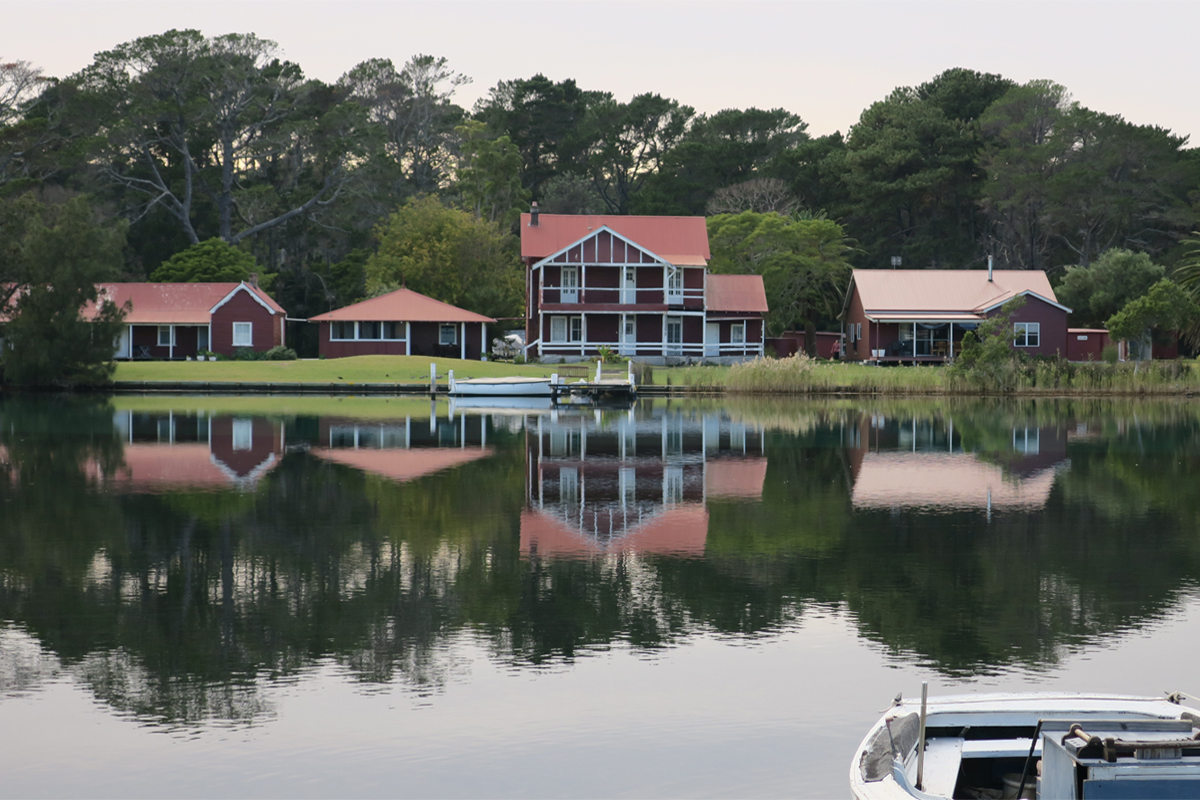 Image: Looking accross to Christian's Minde today.
Sussex Inlet saw only passing horsemen and wagons as they came to the entrance to ford the river across to Berrara and southward. The surrounding bush at that time (and as far as Jerrawangala) was alive with koalas, wallabies and dingoes, but no kangaroos.
The first European settler in the area was Jacob Ellmoos, a migrant from Denmark who arrived in Sydney in 1878 then sailed and fished his way down the coast. He arrived at Cape St George and set up camp there. During a fishing trip Jacob Ellmoos came across Sussex Inlet and was captivated by the good fishing in the lagoon and the beauty of the locale.
Shortly after 1880 Ellmoos was granted 1200 acres of land on the eastern side of the Inlet. In 1886 Jacob brought out his parents and siblings. The family erected a guest house, 'Christian's Minde' in 1890, the only one of its kind between Sydney and the Victorian border. The name means "Christian's Rest" or "To the Memory of Christian" and was named after Christian Elmo's, his father. In the township, Jacob's Drive and Ellmoos Reserve also bear his name.
In 1918, Henry Hourigan was granted land upon which he built the famous Inlet Cottages, an early example of a seaside holiday camp. The town has now become synonymous as a holiday and retirement destination, even with its own local golf course which was opened in 1956 by Clive and Jack Curtis. The golf course now forming the centrepiece for the Sussex Inlet Golf Village.